Digital accessibility saved my professional life. Not because it gave me new career opportunities in a facet of digital work, but due to the impact my work has on people lives, all people, including those with varying disabilities.
I've been working with the web, with digital channels for over two decades. Most of this time has been spent in a front-end developer role, working with standards-based HTML, CSS and Javascript, and various CMSs.
Around 2008, my interest began to lean towards user experience. While still interested in getting my hands dirty in code, increasingly I was interested in the human impact of design and development, how they play into a users ability to succeed with tasks, as well as the positive, memorable experience users had in using a website. With no formal education or experience, I read everything I could about the various facets of user experience.
Moving forward to 2013, I was a front-end developer at United Airlines and had made a few alliances with individuals in the user experience group. One individual was paying close attention to the Department of Transportation's proposed addition to the Air Carriers Access Act (ACAA) which would require all U.S. airlines to make their websites and kiosks accessible. This fascinated me, although I was clueless as to how websites would not be accessible. When the mandate was formalized in November of 2013, and a deadline announced (three years from December 12 of that year), I immediately hopped on board, asking how I could help out and participate in this initiative.
A Grassroots Effort
The beginning of 2014 brought a grassroots effort to create awareness and begin making the website accessible. I took part in several awareness events, giving presentations to senior management and conducting "Lunch & Learns" with various internal partner teams. Yet, the traction was not there. We still received pushback from project managers, stating "accessibility is a nice to have, but let the lawyers figure it out." That, plus some corporate reorganizations, which caused us to lose several key, experienced people, and accessibility seemed to be a hopeless battle. Near the end of 2014 however, a manager of User Experience Research took the reigns of leading the initiative. Around the holidays, we began discussions on how we were going to formalize this effort to meet the deadline.
Can't Find An Accessibility Meetup? Start Your Own
Throughout 2014, I sought out local meetups that covered digital accessibility to help fuel my interest and interact with people in the know. Inspired by local accessibility meetups in Toronto and the San Francisco Bay area, and after a half year of searching locally with no luck, I started my own meetup group. The Chicago Digital Accessibility & Inclusive Design Meetup was born the day after Christmas in 2014. With the first few meetups held in a local tavern and a couple handful of attendees, I learned that most were interested in the topic, yet had little to no experience. As we grew, we started formalizing informative presentations, addressing the needs of designers and developers. During the three years since we started, the local community in Chicago has really embraced the need for accessibility. And I have been blessed to have some really great venues and speakers to work with. We've also engaged the disability community, who have participated in and created some of our richest moments. The response and feedback from attendees have been priceless and inspired me to further the reach of the meetup. This truly was my first life-changing experience in accessibility.
A Formalized Project
Immediately starting the first day back from the holidays in 2015, the informal accessibility team set off to make more aggressive strides in meeting the first deadline.
The Department of Transportation mandate was to be implemented in two phases. The first phase, to be delivered by December 12, 2015, was to have the seven core functions of the website accessible. These core functions included:
Booking or changing a reservation (including all flight amenities)
Checking-in for a flight
Accessing a personal travel itinerary
Accessing the status of a flight
Accessing a personal frequent flyer account
Accessing flight schedules
Accessing carrier contact information
The second phase, which addressed the rest of the site, was required for the same date in 2016.
This seemed like a monumental task, yet within the "informal" team, there was no allowance for failure. You'll note that I said "informal." There was no official accessibility team to address this, only individuals who wanted to be apart of this effort. People from User Experience, Digital Production, Editorial, eCommerce Business Analysts and IT were involved and invested in making the site accessible. We even got a proper project manager, who monitored the project, ensuring that progress was being made. Yet, it still was an initiative and not a fully supported project by upper management.
That changed early in 2015 when I took the opportunity to invite my Managing Director to a conference room. There, I had set up a laptop pointed to the homepage. A mouse was tethered to the USB port. I asked him to book a flight. As he reached for the mouse, I immediately interrupted him, apologized, then unplugged the mouse. I then stated, ok, now book a flight. After 5-10 mins struggling in using the keyboard to navigate the page, he gave up. I said, "That's just with using a keyboard. What if you couldn't see the screen?" After an expletive, he thanked me for demonstrating the impact our inaccessible site had. After that, there seemed to be a better understanding of the actual problem by upper management.
Next Life-Changing Moment
We began a search for an accessibility consulting agency, who would help and guide us to making our website and kiosks compliant to WCAG 2.0 Level AA for accessibility. Around the same time as our selection, the Accessibility Lead from UX and myself attended the CSUN Assistive Technology Conference, held annually in San Diego. We attended two days of workshops, followed by the three-day conference, offering over 400 sessions. It was sensory and information overload.
During one of the many vendor parties that are held, I observed a young man with a large headset on his head, holding a stuffed animal close to him, while moving a squishy toy with his other hand. I thought to myself, how strange this guy looked and acted. The next day, I attended a presentation by the BBC on their Accessibility Champions Network. The presenter was the same guy I observed the night before at the party. His presentation was inspirational. While I sat listening to his presentation, I couldn't help but feel overwhelming guilt over my initial prejudice when I first observed him. Another talk he gave on Cognitive Accessibility was equally inspirational. The same day of his talks, I happened to see him in the hallway. I made my way towards him, wanting to thank him. His initial body language, understandably, was of caution and defensiveness. However, after bringing up a few things that he mentioned during his talk caused any anxiousness to dissipate.
The entire conference was life-changing and motivated me to learn as much as I could about all disabilities and the steps that could be taken to make the digital world more accessible.
Heads Down, Making it Accessible
With the experiences from CSUN digested and our engagement with Tech for All started, we set off to conquer the world … well, at least our website's seven core functions.
We held daily remediation sessions, where the resources at hand, UX, front-end development and business analysts would come together, review the pages that made up the seven core functions and write up the remediation business requirements for our Information Technology partners to remediate. Being a corporate environment, this was not a straightforward as you think, as one technology group would want to be told what needed fixing, but not how to fix it. For another technology team, we had to explicitly spell out exactly how to fix the accessibility issues. Beyond these challenges, for me, the time spent with these individuals with different focuses was rich and rewarding beyond expectation.
Once we had remediated portions of the website's seven core functions, and our partner agency Tech for All re-audited samples of the site, we began internal testing. Beyond the members of the remediation team testing, we needed formal testing to be performed by quality analysts. One QA individual was told to attend a meeting, where they found out what they would be doing for the next several months (including learning about WCAG specifications and how to use a screen reader). I was amazed at how quickly she was able to pick up the knowledge and skills needed to test the remediated work. She and a blind contractor worked feverously, in tandem, to ensure all remediated work was completed accurately.
Another Life-Changing Moment
After internal testing, we began external user testing. With the assistance of our accessibility partner, a local organization helped recruit users with varying disabilities. We spent the day with users, watching them use the remediated website, noting any failings and poor experiences. The passive act of watching users use our website was exhilarating and validating (when they succeeded) and humbling (when they failed). Happily, the successes outweighed the failures.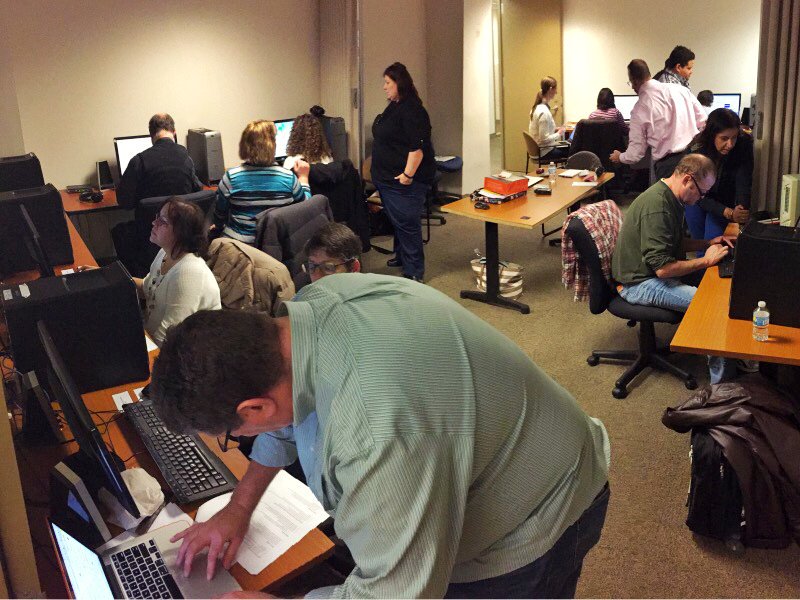 Two memories that last for me during that user testing. To be compliant with WCAG 2.0's 1.4.4 Resize text, a Level AA success criteria, text, when resized without assistive technology, had to be usable without loss of content or functionality up to 200 percent magnification. With that said, I watched a user interact with the website at 500% magnification. In another instance, I worked with a user who was deaf and non-speaking. How was I to instruct the user how to test the website? I ended up using a separate laptop to interact with the user, by typing my communication to her, while she typed her responses to any questions. She was excited to be able to participate in this manner. This user testing event eclipsed all prior events in the impact it made on me.
Extension and Dilution
As the December 12 deadline for Phase One approached, we feverishly worked to complete all tasks, to make the seven core functions compliant with accessibility. The day before the deadline, a Friday, we learned that the Department of Transportation would be extending the deadline to June 30, 2016. There were mixed feelings about this. The extension had the negative impact of reducing the sense of urgency with upper management, which we had to fight against, and diluting the remediation efforts going into 2016 to address Phase Two.
Phase Two and to the Finish Line
Starting in 2016, while our IT partners worked to address a few outstanding issues on the application side that were included in the seven core functions, we turned our attention to "the rest of the site." Taking our learnings from the seven core functions, which were primarily application-based, this phase would include over a thousand content pages and various forms and applications throughout the site. Needing more resources to cover the amount of work, we divided and conquered, breaking the remediation groups used in the previous year into two teams, and adding additional resources. In each group, we had a User Experience, Front-end Developer, and Business Analyst meet daily to review pages and document remediation requirements. In parallel, our Digital Production team began the task of remediating accessibility issues on content pages. We were blessed to have an amazing co-worker who embraced accessibility and solutioned all the accessibility fixes for CMS pages, UI widgets, and other treatments, such as footnotes, which were heavily used on portions of the website.
As we approached the final deadline, while we all felt that we could have done more (out of being perfectionists), we really did accomplish a great deal in the actual timeframe we had. Shortly after the deadline passed, we learned that the American Foundation of the Blind awarded us with their Access Award for 2017. While it felt nice to be recognized by such a leading organization for our efforts, most of us took it in stride, as the real reward was the knowledge that people with disabilities now had more independence to visit the website and perform essential tasks and obtain information like the majority of site visitors.
Working within the accessibility field has given me much more than a steady income. It has refueled the passion I've had for the digital space, enriching me with the people I've met and have been fortunate to work with, and the observed impact our work in accessibility and inclusion has had.